Next:
The Escape: Facts
Up:
The Escape
Previous:
The Sources for Mossotti's
Mossotti escaped from Milan because of political reasons. On 26 December 1822

Buonarroti sent from Geneva to Milan a certain Philippe Alexandre Andryane, with the task of reorganizing the Society in northern Italy, and with the authority to accept in the Society whoever he would have believed worth of it. Buonarroti also gave him a piece of paper with the names of libertarian people to whom Andryane could have gone for help. Among these names there was also that of Mossotti. Andryane was born in Liegi or Maastricht, and resided in Paris. His father, Gandolphe, was a banker and owned some shops in Liegi and Maastricht at the times when the French army conquered Belgium; he was a rich bourgeoise with liberal views, and had always been hostile towards the Government. Of his sons, one married the daughter of a king murderer, and the other, Alexandre, had a high grade (master of the third degree) in the Society of Perfect Sublime Masters. The police report that after Alexandre Andryane arrived in Milan, having obtained a permission for one month, he stayed there until the 18 January 1823, without causing any trouble. And he would have probably completed his task without further ado, if something inexplicable hadn't happened: the President of the Austrian Government in Milan, the Count of Hartig, developed a suspicion that Andryane had a link with the Swiss revolutionaries. Following this suspicion, the Customs police went through Andryane's belongings and found compromising letters, secret codes, keywords to break the codes, a template with the same purpose, the profession of faith of the Society, the statute of the Society, and also, on a piece of paper, the name of Ottaviano Fabrizio Mossotti. Andryane was questioned four times by a special commission and gave in, confessing to everything. The seizing of his papers was a very serious blow for the Society, but as the names on the letters were all false, nobody would have really been endangered. However, his confession compromised all those people who would have otherwise been safe under the false name: about ten people were either put in prison or questioned and put under surveillance by the police. Andryane was first condemned to death and then graced into a lesser sentence: life imprisonment in the infamous Spielberg. Other exponents of the Society were luckier and managed to escape to Geneva, in particular the Count Luigi Porro-Lambertenghi and Giuseppe Pecchio, who were sentenced to death in contumacia, and Mossotti himself.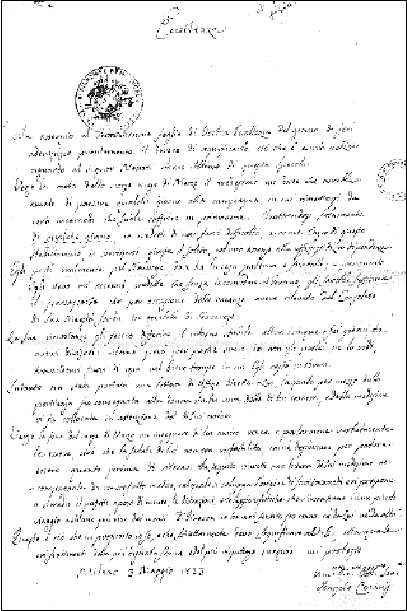 Figure 5: De Cesaris' letter to the Government (M10).

---



Next:
The Escape: Facts
Up:
The Escape
Previous:
The Sources for Mossotti's
Leo Liberti
Thu Feb 26 22:27:51 CET 1998