Next:
Research assistantship in Pavia
Up:
Early Years
Previous:
School Years
The universities were not free from prohibitions or strict regulations: the students were not only under strict scientific superintendance, but also under the close surveillance of the police (this might have been a means to controlling the ideas of the intellectuals). No student was allowed to choose his dwelling or leave it without permission of the prefect, who often appointed the place where the student was to lodge and board. Whoever wished to receive students into his house had to undertake the responsibility for their observance of the laws which regulate their going to mass and confession, fasting, and even their clothes and their beards. Neglect of these rules was punished by exclusion from the examinations, or from the university itself.
Mossotti read physics and mathematics at the University of Pavia. Warmly recommended by the secondary school he had attended, he was admitted directly to the second year

, thus skipping the three basic courses of the first year: Elements of Geometry and Algebra, Italian and Latin Eloquence, Analysis of the Ideas. He proceeded to complete his degree in three years, attending the following courses: Introduction to Sublime

Calculus, Theoretical Physics, Experimental Physics, Natural History in the second year; Applied Mathematics I, Sublime Mathematics I, Civil and Military Architecture I, Agronomy in the third year; Applied Mathematics II, Sublime Mathematics II, Civil and Military Architecture II in the fourth year

. Mossotti obtained his degree

in mathematical physics with the highest possible mark and further distinctions on 6 June 1811. It is worth noting that while Ferrucci reports in X16 that Mossotti studied with Volta, Brugnatelli and Brunacci as an undergraduate, the layout of his degree courses (M40) contradicts part of this assertion: of the three scientists mentioned only Brunacci actually taught Mossotti. In fact, among his tutors Brunacci was the one who appreciated him most: in 1813, after Mossotti had published his first paper, Brunacci said ``Two years ago he was here as a student, and now he could well be here as a teacher". Mossotti's tutors insisted for him to come back to the university as an auditor after his degree, which he did during 1812 and 1813.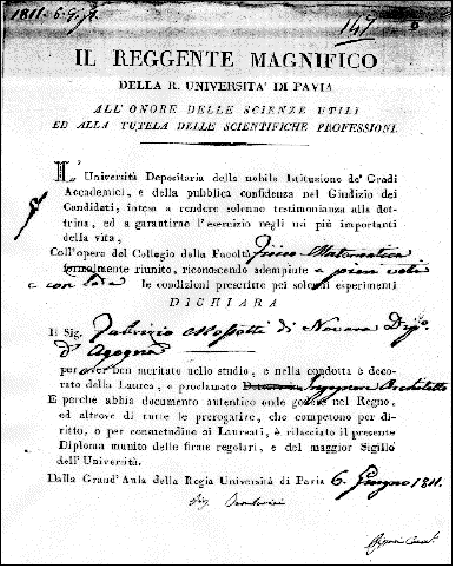 Figure 3: Mossotti's degree (M41).

There has been some controversy as to whether Mossotti also attended some engineering course at some stage of his university studentship, mainly because of the topics of his early papers

and because both in London and Buenos Ayres he worked with the local Hydrographical Offices. Researches conducted in Pavia and Milan Universities have given negative results in this sense, and it is more than likely that his knowledge of engineering came from the courses of Architecture and Agronomy Mossotti had attended in Pavia. In fact his degree did not gain him the title of ``Doctor", but that of ``Engineer and Architect". However, in all scientific correspondence or publications, his titles are always those of ``physicist" and ``mathematician" and never of ``engineer", which indicates that he considered himself more a mathematician than an engineer, and indeed all his works are highly theoretical. His interest and ability in engineering come from the fact that in the 19th century the difference between mathematics, physics and engineering was very weak. According to Zanobi Bicchierai

, in 1814 Mossotti wanted to ``dedicate himself to the art of engineering" and abandon physics, enraged by the fact that the university of Pavia promised him a job as a research assistant and never gave him one; Brunacci however insisted that he remained a physicist, and Mossotti gave in to his teacher's desires.
---



Next:
Research assistantship in Pavia
Up:
Early Years
Previous:
School Years
Leo Liberti
Thu Feb 26 22:27:51 CET 1998