MARCI - MAthematical Recreational CIrcle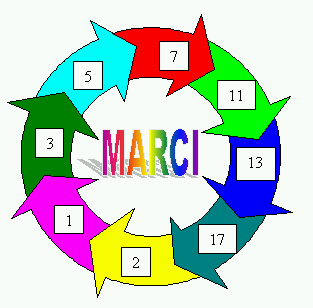 The main goal of the MARCI meeting is to enjoy mathematics.
All attendees are free to talk/listen/eat as much as they like.
One attendee is the meeting speaker. The speaker decides the topic.
One attendee is the meeting host. It is the host's care to organize the meeting.
Speaker and host may be the same person.
MARCI meetings
The MARCI met for the first time on 030318 (18th march 2003) with three attendees:

Maurizio Bruglieri
Chiara De Santi (host)
Leo Liberti (speaker)

The topic chosen by the speaker was on a theorem about generating prime numbers, see the relevant paper and the picture gallery.
MARCI met virtually by email on 030326 with a problem proposed by Maurizio, attendees Maurizio, Chiara, Leo; and a guest "speaker", Franco Raimondi. Read the problem statement with some proposed solutions, and Franco's reply.
The 030401 MARCI meeting, with 4 attendees:

Maurizio Bruglieri
Marco Bruzzone
Chiara De Santi (host)
Leo Liberti

focused on more than one subject. First, we analysed the paper Guy et al., Primes at a Glance, and found many answers to questions left pending from the first meeting. Secondly, Maurizio gave us an account of the Genoa "Chaos and Complexity" 2002 show, with some information about fractal taste. Thirdly, Leo talked about quantum computing. See the notes, the idea for quantum optimization, Steane's survey paper, and further qubits of information. Or just look at the pictures.
The 030429 MARCI meeting, with 5 attendees:

Maurizio Bruglieri
Marco Bruzzone
Chiara De Santi (host, as usual)
Leo Liberti
Fabio Roda

started to look into Goedel's theorems and all that tours around it. We looked at a short paper about how easy it is to mistake provability for truth, and then we heard Fabio talk about consistency, completeness and correctness of a mathematical theory. As we all seem to be quite interested in this topic, we all hope to have other sessions about Goedel's theorem and logic / axiomatic set theory in general. Some puzzles were also discussed, the most controversial being the "missing area" problem illustrated here. For hints (in Italian) about its solution, see this mail.
The 030527 MARCI meeting, with 4 attendees:

Marco Bruzzone
Chiara De Santi (host, obviously)
Leo Liberti
Fabio Roda

went on with the investigation in the details of Goedel's theorem. We started to look into the godel number of mathematical formulae, based on Mendelson's book's numbering. Unfortunately, we were left rather confused by Mendelson's choice of "constants", "predicates", "functions": we seemed to remember that all these concepts could be captured with just variables, symbols like ( ) , "implies" "not" and quantifiers.
The 030610 MARCI meeting, with 7 attendees:

Pietro Belotti
Maurizio Bruglieri
Marco Bruzzone
Chiara De Santi (host, again; and I shan't say it any more)
Sonia Ferretti
Leo Liberti
Fabio Roda

again went on studying Goedel's theorem, and in particular most of the concepts that come before the understanding of the theorem proper. We clarified some concepts concerning the differences between propositional logic, first-order logic without proper axioms, first-order logic with proper axioms, and higher order logics. Propositional logic does not involve the use of quantifiers; it is the "least powerful" expressively speaking, but the "most powerful" deductively speaking. In propositional logic every tautology is provable (it is complete), and its deduction theorem does not have any special hypothesis. In first-order logic the quantifiers act on individual variables. Without proper axioms (i.e. only counting the logic axioms and the two inference rules quoted by Mendelson), first-order logic is complete (Goedel, 1930). However, its deduction theorem is limited by some assumptions. First-order logic with proper axioms (i.e. other axioms beyond the logic axioms, which might be phrases describing the properties of some added relation, or function) might not be complete, and its deduction theorems may be severely limited in scope. We seemed to understand the fact that Goedel's incompleteness theorem refers to a first-order logic with enough relation and functional letters and enough proper axioms so that a description of the natural number is possible. In higher-order logics the quantifiers may act on relation and functional letters as well individual variables. We also talked about the difference between a "structure" and a "model". Fabio Roda came up with the following explanation. Every sentence in these logic systems we are talking about contains names: individual variable names like x,y, relation names, functional names, and so on. We can then assign a "thing", an object, to each name: like x means "my mum" and so on. The class of all these objects is a structure. The "union" of a structure and its describing sentences in logic is a model.
Franco Raimondi, our correspondent from London, sent in this mail.