Page personnelle de François Morain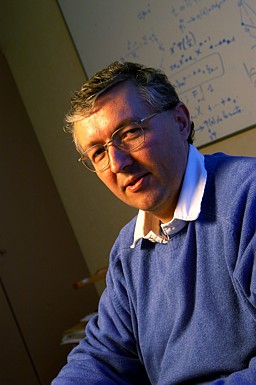 ---
---
Ma clef publique.
---
Membre du projet GRACE.

---

E-mail: morain(at)lix.polytechnique.fr
---
Nouveautés:
Les polynômes CCR:

2023/03/01: Utilisation des polynômes modulaires de Charlap-Coley-Robbins pour construire des isogénies:
2023/02/10: Calcul des polynômes modulaires de Charlap-Coley-Robbins: le preprint.
le programme Magma correspondant aux deux preprint.

Utilisation de courbes modulaires dans ECM:
2022/02/11: fichiers Magma contenant des algorithmes de hgcd; gcd.2022.08.31b.tgz (implantation en GMP, remplaçant la version précedente et corrigeant de nombreux bugs).
2018/02/23: Deterministic factoring with oracles (avec G. Renault, B. Smith)
2017/06: Computing discrete logarithms in GF(p6) (avec L. Grémy, A. Guillevic, E. Thomé)
2017/07/25: Breaking DLP in GF(p5) using 3-dimensional sieving (avec L. Grémy et A. Guillevic)
2016/12/23: Discrete logarithms (avec A. Guillevic)
2016/05/23: Solving discrete logarithms on a 170-bit MNT curve by pairing reduction (avec A. Guillevic, E. Thomé)
2016/05/23: Computing cardinalities of Q-curve reductions over finite fields (avec C. Scribot, B. Smith)
2015/11/16: Factoring Safe Semiprimes with a Single Quantum Query (avec F. Grosshans, T. Lawson, B. Smith)
2015/02/03: Improving NFS for the discrete logarithm problem in non-prime finite fields (avec R. Barbulescu, P. Gaudry, A. Guillevic -- EUROCRYPT 2015).
2015/01/08: Cryptologie, la protection par les nombres, les jeudi de l'X.
2012/02/21: Discrete logarithm computations over finite fields using Reed-Solomon codes (avec D. Augot)
2010/10/15: nouveau record pour ECPP, annoncé à ECC2010 (transparents).
2009/10/22: A remark on an article of S. Müller, FM.
---
Sujets de recherche : théorie algorithmique des nombres et cryptologie.
Mes nombres premiers
Le programme ECPP
Les records de SEA
---
---
Factorisons les décimales de pi (les nombres qui restent à factoriser sont repérés par un C).
---
Quelques points d'Histoire
Les manuscrits introuvables
d'A.O.L. Atkin Tels qu'envoyés par email, et qui me semblent utiles à partager. D'autres emails pourraient suivre. Autres Quelques photos

P. Flajolet: photos prises en avril 1990 à l'INRIA Roquencourt (en fait, à la cafétéria), avec quelques collègues du projet ALGO de l'époque (C. Fricker, B. Salvy, P. Zimmermann, et votre serviteur).

---

Aphorismes

2018.03.29: Donner ses données, c'est donner, reprendre, c'est voler. Charline Vanhoenacker, France Inter.

Quelques pointeurs