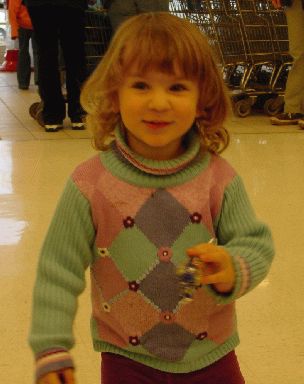 Nadia Miller, L' école élémentaire du Guichet, CE

Visit my mommy, daddy, and baby brother.
I live in Orsay, France. Before coming to France, I have lived in Boalsburg, Pennsylvania, the birthplace of Memorial Day (USA).

Curriculum Vitae


I was born in State College, Pennsylvania, 8 July 1999.

I have attended the CONCUR 1999 (Einhoven), ICLP 1999 (New Mexico), MFPS 2000 (Hoboken), CL2000 (London), CONCUR 2000 (State College), Logic and Interaction meeting 2002 (Marseille), and the Workshop on Proof Theory and Computation 2002 (Dresden).

I have helped to train baby sitters from Turkey, Mexico, Romania (twice), Brazil, and France (thrice). I have attended Kindergarten Tittmannstrasse Dresden for three weeks in June 2002.

In 1999, I was made an honorary member of the Association of Logic Programming. Having both parents as members or former members of the executive committee of the ALP probably helped.

There are a lot of pictures of me on the web.